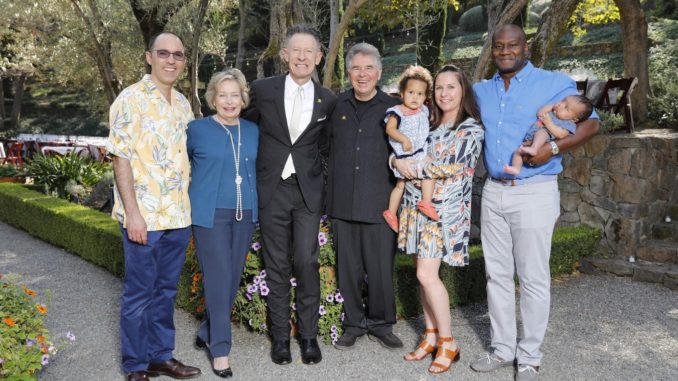 While many were in Los Angeles celebrating the 69th Annual Primetime Emmys, there was another event happening in Napa Valley California that was worth all the accolades. The Staglin Family celebrated advances in science and a new financial milestone at the 
23rd annual Music Festival for Brain Health. 
Co-hosts Shari and Garen Staglin, along with their children Brandon and Shannon, Congressman Mike Thompson, Pete Chiarelli, CEO of ONE MIND, and the One Mind Board of Directors welcomed over 500 supporters, scientists, and friends on a beautiful late summer afternoon to celebrate life and raise awareness of the causes and cures for physiological brain disorders.
"The support we continue to receive that funds these important scientific discoveries is amazing," stated Garen Staglin. "As we near a quarter of a century with this effort, we are beginning to see the breakthroughs that will unlock the mysteries of the brain and make a difference in so many lives."
ONE MIND has become the nation's leading private-public mental health organization dedicated to curing brain-related diseases, including depression, schizophrenia, traumatic brain injury and bi-polar illness, focusing on issues including funding, research, advocacy, open science principles, and anti-stigma.
The event engages the mind during the scientific symposium which featured keynote speaker Dr. Joshua A. Gordon, MD, PhD, Director for the National Institute of Mental Health (NIMH). Dr. Gordon spoke on his vision for the NIMH's leadership in national mental health research and on the essential role of public-private partnerships to advance this research. Also featured was Samuel McLean, MD, emergency medicine physician and Jeffrey Houpt Distinguished Investigator at the University of North Carolina. Dr. McLean, as Principal Investigator of the AURORA Study – a collaborative national study supported by the NIMH and ONE MIND – spoke on how the scientific and medical communities can better understand disabling brain changes that occur in response to traumatic events.
A symposium highlight was the announcement of the 2017 Rising Star Awards, which are sponsored by ONE MIND and Janssen Research & Development, LLC. These $250,000 awards identify and fund pivotal, innovative research on the causes of and cures for brain disorders. The ONE MIND Scientific Advisory Board has chosen Alik S. Widge, M.D., Ph.D., to receive the 2017 ONE MIND/Janssen Rising Star Translational Research Award in Honor of the late Jeffrey S. Nye, M.D., Ph.D., and Ian Maze, Ph.D., to receive the 2017 ONE MIND Rising Star Early Diagnostics Basic Research Award. The Rising Star Awards have become among the most prestigious a young scientist can receive.
Following the symposium, a tasting of 75 of the world's most acclaimed wines took place in the Staglin Family Vineyard winery caves, with hors d'oeuvres provided by Chef Nash Cognetti of 
Tre Posti 
in St. Helena. The party continued when singer, composer and actor Lyle Lovett and his Acoustic Group took the stage for an intimate concert among the Staglin Vineyard vines.
A musical highlight included an invitation by Lovett to have Brandon Staglin join his band to perform a crowd-pleasing original song he wrote on living with schizophrenia. The post-concert, four-course gourmet dinner was served outdoors with perfect weather and featured the cuisine of legendary Napa Valley Chef Cindy Pawlcyn of 
Mustards Grill 
and 
Cindy's Backstreet Kitchen 
paired with Staglin Family Vineyard wines.
In addition, at an enthusiastic session during the dinner following heartfelt personal stories, ONE MIND raised over $435,000 to support the 
AURORA study
, whose goal is determine the causal factors for post-traumatic stress conditions and more accurate diagnostics and treatments.
If you'd like to donate to the cause please click 
HERE
 or simply send a check to One Mind Institute, a 501 (c) (3) non-profit organization that sponsors the Music Festival. Please mail donations to: P.O. Box 680, Rutherford, Calif., 94573.
This year's efforts raised nearly $5.5 million to benefit 
ONE MIND
™, with the cumulative total having surpassed $280 million. Since it's inception in 1995 positive strides have been made to spread awareness and raise money for the cause. In addition to the good nature of the event, guests were able to enjoy sips and bites from over 75 renowned wineries and restaurants.
Attendees marveled at the movements made thus far! The course of the weekend was filled with nothing but positive moments and record breaking information. The date for the 24th Annual Music Festival for Brain Health has been set for Saturday, September 15, 2018 – looking forward to seeing everyone there!