Terry Fator: The VOICE of Entertainment Presents A Very Terry Christmas plays through Dec 30
Terry Fator has talent. It's no wonder he won the second season of America's Got Talent in 2007. I always enjoy seeing him perform. He has established his own Las Vegas tradition. It is his thoroughly likable Christmas show. And whether or not you have seen him before, it is a holiday treat.

My personal association with Terry Fator goes back to our first interview when he was just one week-end a month on the Las Vegas stage., shortly after his AGT win. Now, his show at the Mirage is a vital part of the list of top notch shows in Sin City. His is one of the shows that the whole family can enjoy. And with good reason.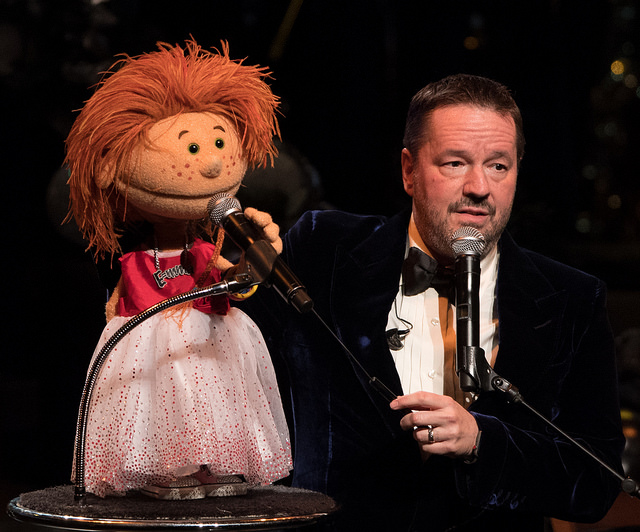 The first thing you should know is that you would be well served to see Terry Fator: The VOICE of Entertainment Presents A Very Terry Christmas in the Terry Fator Theater at the Mirage through December 30th. It is charming, entertaining, and delightful. Terry brings his cast of lovable characters to life including Winston, the Impersonating Turtle, Vikki "The Cougar," country legend Walter T. Airdale, Duggie Scott Walker, Julius, Emma Taylor, the world's greatest Elvis impersonator Maynard Tompkins and Latin heartthrob Fernando V. Francisco, "Elton John," "Donald Trump," and a special performance by "Bing Crosby" and "David Bowie."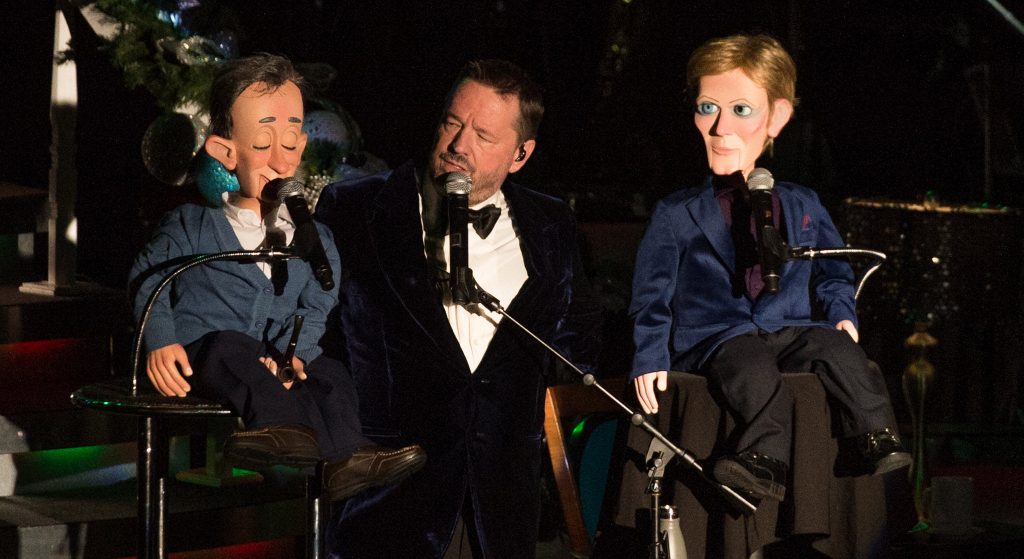 This is a warm fuzzy show that will entertain the children and the adults as well. Each time I write a review of Terry Fator I must tell you that you will quickly forget that he alone is speaking or singing. Terry"s interactions with his puppets seems so real. Terry Fator is one of those entertainers who spent many years working before becoming an overnight success. He is seasoned, and it shows.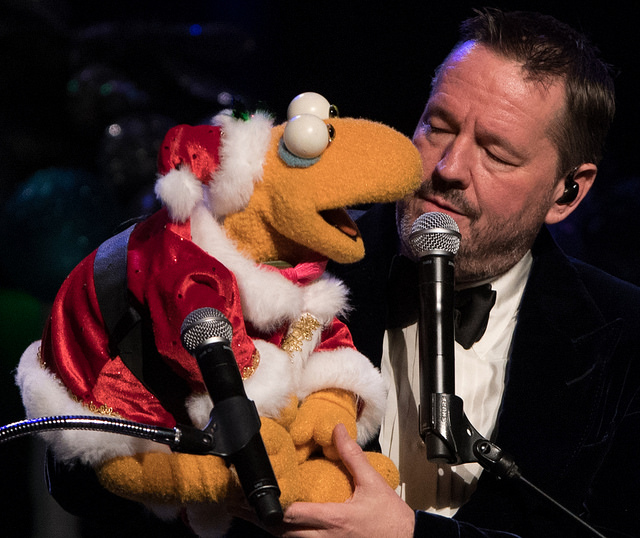 There is a theme running through this special Christmas show as Winston searches for the real meaning of Christmas. Terry draws from his repertoire of more than 100 ventriloquial impersonations and 16 puppets as he amazes and amuses his audience with his special talents.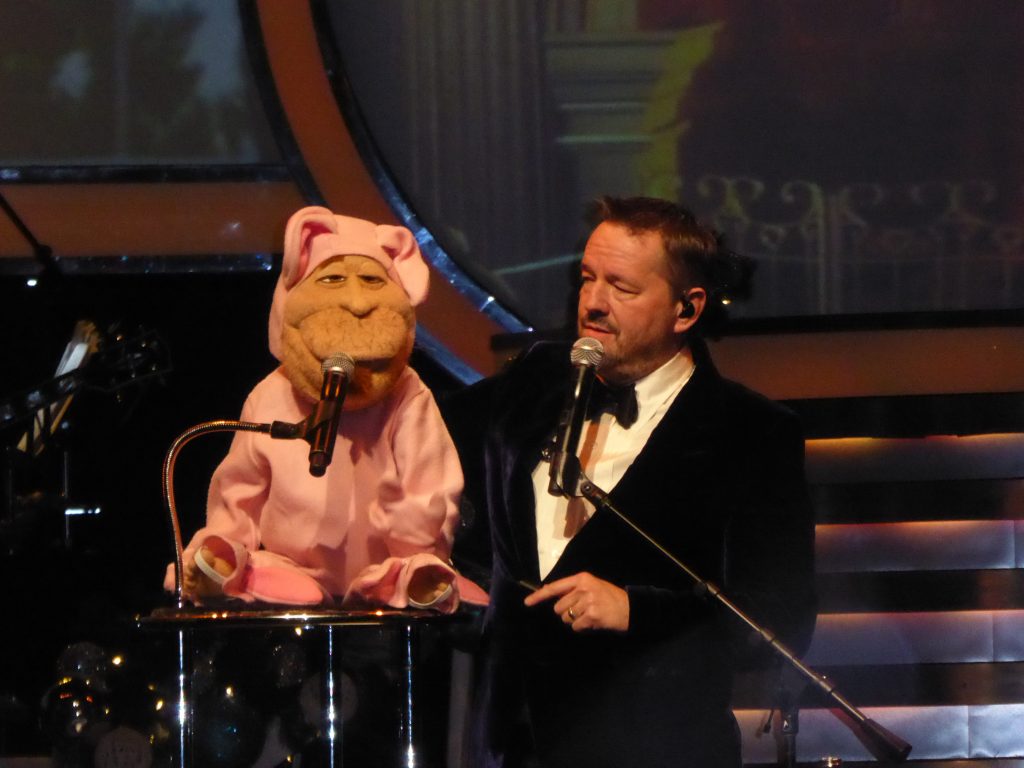 You hear Johnny Mathis, Tom Cruise, Ethel Merman, Judy Garland and even Donald Trump who is, "Gonna make Christmas great again." It's hard enough to do imitations of singers, but to do it without moving your lips – that' a special kind of talent. And Terry Fator has it.
Yes, it is a bit political, but not so much that any rational folks will be offended, just amused. Some of his references, such as Brokeback Mountain, fly right over the heads of the kids and give the adults a few good inside laughs.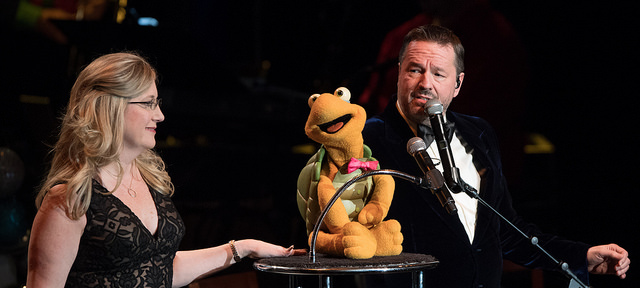 Also assisting is Terry's real life wife Angie. Terry opens the show singing in his own voice, something he has been doing more of these days, but soon enough, he demonstrates the talent that won the hearts and votes of America. – Photo by Tom Donoghue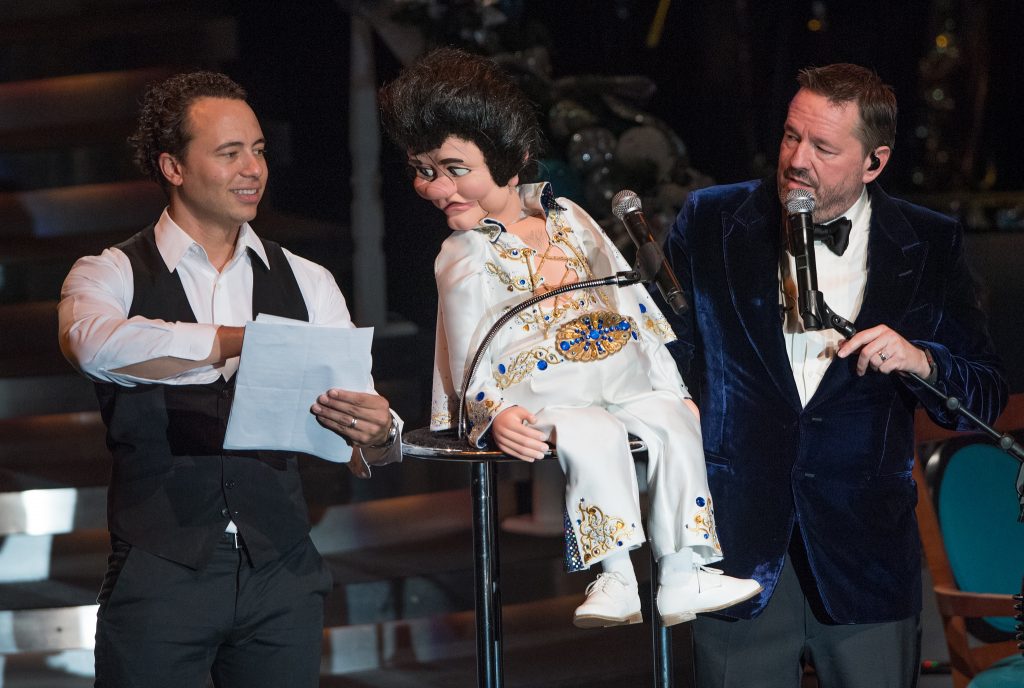 How does he do it without moving his lips?! (Video by Dianne Davis)
As a special note, every show Terry does includes recognition of our armed forces, firefighters, first responders and law enforcement officers. This is a patriotic Texan on stage. Terry Fator: The VOICE of Entertainment Presents A Very Terry Christmas Monday – Thursday; select Saturday shows through Saturday, December 30 at 7:30 p.m. Tickets can be purchased at any MGM Resorts International box office, by phone at 702-792-7777 or 800-963-9634 or online at mirage.com. For more information, visit terryfator.com. l