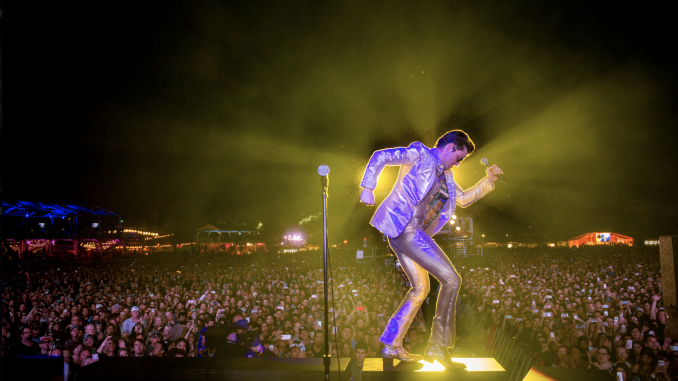 Day two of BottleRock seemed to be a bit more of the 'who's who' of the weekend! Heavy hitter and new comers were the main draw of the day!
Australia old blues rocker Hamish Anderson kicked off the day at the Midway Stage and set the tone for the day of old school grooves! Influences of classics such as the late Tom Petty and the Heartbreakers mixed with raspy-ness of The Black Keys – Hamish Anderson is definitely an artist to watch! The way he went on various tangents with his guitar would make you question why John Mayer and him haven't done a duo just yet.
Over at the Jam Cellars Stage Bleachers started their set at an all-time high! The late night shows didn't stop attendees from arriving early to see the high-strung set. Even frontman Jack Antonoff would not give the crowd a break! He demanded high energy and encouraged attendees to scream, jump, and yell while singing, "I Wanna Get Better!"
Billy Idol took transformed BottleRock into a huge 80s punk jam sesh! Having sold 40 million albums, I'd say he knows how to work the crowd. He performed classics such as, "Rebel Yell," "Flesh for Fantasy," "White Wedding," and more.
Jacob Banks introduced a little soul, Indie Rock, and R&B to the Miner Stage. The early artist has had his work cut out for him on his rise to stardom. Having performed with Alicia Keys on tour the self-taught musician had a pretty empowering set that was just the mid-day refresher needed to take on the rest of the day.
As expected, The Killers brought fresh energy to Saturday night with their hits such as "Mr. Brightside" and "Somebody Told Me." The Las Vegas based four-piece is no stranger to putting on a show, effortlessly. Capturing the audience comes natural to them, but then again how could it not. The Killers have won over the hearts of many adorn listeners as they have a ton of classics that resonate. Brandon Flowers, a performer in his own right, flew across the stage in many fun-eye catching ensembles. During the 2-hour set they even did a  tribute to 2017 headliner Tom Petty — who played at BottleRock just five months before his death — with a moving performance of "American Girl" that really sparked emotions.
The closing of day 2 seemed perfect and quite on pace. Good energy, music, and vibes all around. The fact that there were about 40,000 people in attendance was simply an after thought as it did not damper the evening. The more the merrier! Bring on day 3!