I had the opportunity of being at Eataly Chicago for the debut of their all-new seasonal restaurant, Baita, which brings diners a taste of the ultimate winter destination of the Italian Alps. This began on Friday, October 19, 2018, and will remain through March 2019.
Founded by Oscar Farinetti, Eataly is the largest artisanal Italian food and wine marketplace in the world. From the opening of the first location in Turin in 2007, the philosophy "Eat. Shop. Learn." has spread to the rest of the world. At Eataly Chicago, which totals over 60,000 square feet on two floors, it is possible to purchase high-quality food and drink at accessible prices. Consumers can experiment with new combinations of flavors, at the various restaurants throughout the marketplace, before learning more about Mediterranean culture with educational courses on food, wine, and nutrition. Eataly Chicago opened in December 2013, and is now part of a family of Eataly locations throughout the world, including four other locations in the U.S. (Eataly New York Flatiron and Downtown, Boston, Los Angeles, and soon Las Vegas).
As for the restaurant, Baita (pronounced bye-tah) is the Piemontese word for a small ski lodge in the Italian Alps. BAITA transforms the 150-seat restaurant space currently occupied by SABBIA on the second floor of Eataly Chicago into the ideal place for après ski. Guests are transported to a northern Italian mountain town, as they enter a space focused around a central wine bar, and the restaurant's very own baita. You can have a glass of wine, and cozy up next to snow-capped furnishings, large wooden sleds and chairs, blankets, and vintage skis.
Baita's menu features the ultimate winter comfort food and drink fit for chilly ski slopes and cozy fireplaces including an all-new gnoccheria serving pillowy potato gnocchi imported from Italy, melted raclette and grilled cheese, and spuntini snacks (Alpine-style finger food). Baita's Alpine lounge offers specialty cocktails, boozy hot chocolate, warming wines, and more dishes inspired by the flavors of the Italian Alps.
I have been a huge fan of Eataly ever since its 2013 Chicago debut, and nothing the eatery offers or sells has ever disappointed me. Baita is no exception. I loved everything about it-the food, the drinks, the atmosphere and scenery. It was all summed up into one marvelous experience, guaranteed to make me forget about the freezing Chicago winter for even a couple of hours (ironically given the theme of the restaurant)! To get to the restaurant, you can take the escalator or the special elevator up to the second floor.
Even before the food started coming, I caught my eye on the menu's indulgent sipping chocolate. Being the true chocoholic that I am, I ordered a cup with hazelnut liquor, which was the perfect flavor choice for the warm, thick and decadent drink.
On the record: Baita is a great choice if you enjoy hearty foods and carbs such as pasta and LOTS of entire cheese. The crown jewel for me when I ate there for lunch was the famed melted raclette cheese wheel, which was poured over a generous plate of boiled potatoes, house pickled vegetables and toasted housemade rustic bread-it was delicious and extra cheesy. Eataly gets its rich raclette wheels from Spring Brook Farm in Vermont. An honorable mention went to the sputini snack, sciatt (beer-battered and fried Piece cheese), which were basically warm and chewy Italian Alps cheese curds.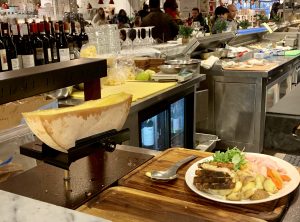 Baita also served up Eataly's usual exceptional pasta. I sampled gnocchi do palate con zuca (Mamma Emma imported Italian gnocchi, roasted squash, brown butter and sage), which was Heaven on a plate. The roasted squash, sage, brown butter, pepitas and hazelnuts, all paired beautifully with the fluffy and tender gnocchi. There was also the agnolotti del plain con zucca (housemade butternut squash-stuffed pasta and swiss chard, sprinkled with fresh parmigiano reggiano). This dish was the ultimate blend of aroma, taste and texture-an exquisite winter dish for the palate.
I avoided the meat and fish dishes, being a vegetarian, but my friend ordered the trota dish (rushing waters trout, Piemontese black rice, squash-we noticed a winter squash theme going on, with Granny Smith apples and mustard vinaigrette). She sprinkled some fresh lemon juice over the trout, which she claimed heightened the flavor of the well cooked fish.
Besides Baita's wonderful menu, the overall atmosphere of the restaurant is a real pleasure and feast for the eyes. The festive ceiling stuns diners with mini holiday lights, hanging white tree leaves and green pine. (I also wanted to sit down on one of the wooden ski lodge chairs, but was disappointed as they were constantly bring occupied by a large group of wine drinkers).
If you need a break from the freezing Chicago winter, look no further than Baita at Eataly-it will be the ultimate escape. Hurry in before the vernal equinox arrives!
Photos: Jennifer Lunz
Reservations for Baita are open for the entire season via OpenTable.
Eataly Chicago is located at 43 E Ohio St, Chicago, IL 60611 and open daily.
For more information, please visit the website.