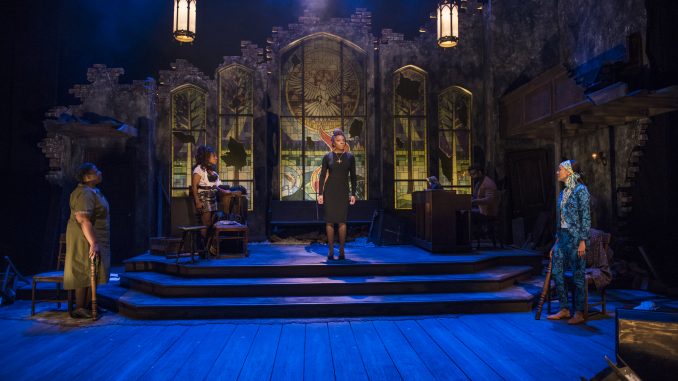 Nina Simone: Four Women, written by Christina Ham and directed by Kenneth L. Roberson is currently in production through March 2, 2019 at Northlight Theatre at the North Shore Center for the Performing Arts, 9501 Skokie Blvd in Skokie, Illinois. February is Black History Month, and the production is perfectly in sync with its goals of acknowledging and promoting diversity, access and inclusion.
On Sunday, September 15, 1963, 4 members of the Ku Klux Klan planted a timed bomb made of 15+ sticks of dynamite beneath the steps of the 16th Street Baptist Church in Birmingham, Alabama, injuring 22 black Americans and killing Addie Mae Collins, 14; Cynthia Wesley, 14; Carole Robertson, 14; and Carole Denise McNair, 11. The church, a popular "rallying point" for civil rights activists, had been an obvious target, and the horrific event is considered to have been a turning point in the civil rights movement.
In 1966, Nina Simone, jazz singer/composer/pianist/activist released an album entitled Wild is the Wind which includes the song Four Women, a tribute to the slain girls, portraying 4 stereotypical "types" of black women. Each of these personae is represented as a character in the play. The four women gather against the bombed-out backdrop of the church with it's stained glass windows behind them, and a piano to one side, to struggle against each other's reality, and ultimately join together in understanding to seek self-reliance, self-respect and freedom.
Aunt Sarah, played with self-sustaining purpose by Deanna Reed-Foster, cleans the homes of white people, is "strong enough to take the pain" that was "inflicted again and again" and represents enslavement. Saffronia, a civil rights worker content to walk in the shadows of men, played with conviction by Ariel Richardson, whose "skin is yellow", is of mixed race; her "father was rich and white" and "he forced my mother late one night." Sweet Thing, as played by Melanie Brezill, is a prideful prostitute who asks, "Whose little girl am I? Anyone who has money to buy." Peaches (Simone herself in the play), played with dignity and immense determination by Sydney Charles, is "awfully bitter these days" because her "parents were slaves". Joined at the piano by Daniel Riley as Sam Waymon, they are most convincing when joining their splendid voices in riveting harmony, less so when declaiming at length about their intentions and history.
The songs are a mix of original Simone compositions, gospel tunes, and songs popular in that era, constituting a biographical musical repertoire of Simone. Singing solo, the individual voices are truly fine; together with the talented Riley at the piano, they seem like a much larger musical ensemble. Sinnerman is an emotionally charged Simone solo, beautifully enunciated by Charles, while Four Women's joyous 4-part chorus and energizing dance movements is truly something special. Similarly, the Simone solo To Be Gifted Young and Black was extremely moving while the ensemble version of Brown Baby raised the roof. Finally, the long-awaited (Simone is composing it throughout most of the play) Mississippi Goddamn, filled with righteous, almost tactile rage, fills us with the pain of the loss of those innocent lives, and the understandable desire for revenge.
 The dialogue, at times slow, intriguingly brings the vastly too slow nature of necessary change into focus, and elucidates the agony of lives lived in torment. The scene when Simone tears off her wig and collapses in bitter tears while describing the shame of being told her womanhood is ugly is by far the most real and wrenching in the play. Roberson does a fine job directing this with great insight into the individual performers, who, in turn, produce fully realized characters who are NOT caricatures of themselves.
Kudos to the creative team including Christopher Rhoton for an inspiring set design that gave us a church that rises to the heavens, Michael Alan Stein for costume design that dresses each lady in her own style, Lee Fiskness for lighting design that highlights the action and Lindsay Jones for sound design that brings it all off with panache.
All photos by Greg Inda