"You can take the life out of the girl, but you can't take the girl out of the afterlife," said the dazzling Romy Nordlinger, when we time-traveled "Live from The Cutting Room" (NYC -10.21.21) back to the 1920s and into her Garden of Alla – a magically original multimedia solo show that tells the story of Alla Nazimova: Silver Screen legend, Broadway Megastar, LGBTQ trailblazer and the first female writer/director and producer in Tinseltown.
The trailblazing bisexual iconoclast was born, Adelaida Yakovlevna Leventon, in 1879 Russia. Abandoned by her mother with a disapproving father, she blacked out her entire childhood. A move to Moscow in 1895 had her study acting with the great Constantin Stanislavski, and begin a career at the Moscow Arts Theater. Ignoring her father's vehement objections to quit, she changed her name to Alla Nazimova and thus began her true transformation. As Stanislavski taught, "Love the art in yourself, not yourself in the art."
Fleeing Tsarist Russia to the Lower East Side, she founded a Yiddish theatre on her way to becoming Broadway's biggest star, described by Dorothy Parker as "the greatest Hedda Gabler." Alla helped bring acclaim to playwrights such as Eugene O' Neill, Chekhov, Ibsen, and Strindberg – even inspiring Tennessee Williams to become a playwright. The Shuberts, having earned 4 million dollars (400 mil today) in sold-out box office, even named a West 39th Street Broadway house The Nazimova Theatre. 
From there, Alla moved west and became the highest paid silent movie star in Hollywood, commanding $13,000 a week in 1916. The first female director and producer in Hollywood, she was a pioneer of the first art film. Her stunningly avant-garde Salome was too "Wilde" for 1926. Unapologetic about her bisexual decadence, she defied the moral and artistic codes of her time that eventually forced her into obscurity. Her legendary Garden of Alla was a haven of intellectual and sexual freedom with regulars such as F. Scott Fitzgerald, Hemmingway, Garbo, Dietrich, Valentino, Chaplin, Rachmaninov – a retreat for many celebrities of the time. She is credited with having originated the phrase "sewing circle." While a discreet code, it was an open defiance to proclaim her strength when women were relegated to silence. In financial and critical ruin after Salome, the press and the studios destroyed her. Finally, she rented a small bungalow on the grounds of the mansion she had built on Sunset Boulevard. Alla died in 1945 at 66.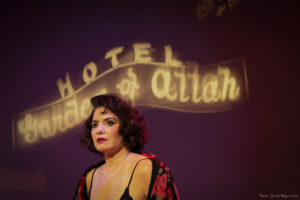 Creating her own bold, trailblazing artistic legacy is actress Romy Nordlinger. Page, stage, screen and studio – Romy is an NYC based actress, playwright, audiobook narrator and voice artist who had the vision to bring to life Alla Nazimova's story of freedom and nonconformity, that was silenced under the smoldering rubble of forgotten history.
"When writing Garden of Alla, I had no idea that we in America would be thrown into a fascistic political regime who want to once more silence and strip away the rights of the 'others' in our society: the LGBTQ community, women, Jews, immigrants and minorities. Homophobia, sexism, antisemitism, racism, and ageism: Nazimova was fighting these contemporary struggles back in the 19th and early 20th Centuries, but alone and without a Twitter account. The importance of tolerance in society cannot be emphasized enough. We are all the stories we tell, and as Nazimova said, "an artist is only dead when the last person to remember them dies'." Now more than ever, theatre has an important role and obligation in being able to tell our stories and give voice to minorities that otherwise might remain silenced, taking back our collective herstory. As Alla says in the last lines of the play, "As we silently, separately scratch shadows onto walls that are trying to divide us, closing in on us, once again. Break. Them. Down."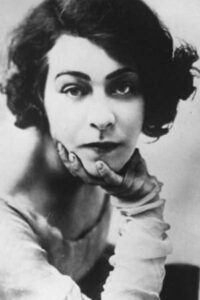 This writer can only imagine Alla Nazimova would have been beyond honored to know her theatrical namesake was in the magnificent hands of Romy Nordlinger, that also held the Nazimova signature vodka martini – three olives straight. Directed by Lorca Peress, with video design by Adam Burns and accompanied by the sumptuous musical score by Nick T. Moore, Romy gives a haunting performance, filled with moment after moment of poignant beauty, our hearts with hers at each stage of Alla's glorious and complicated life.
"Nazimova, the highest paid Broadway actress of the 20's that nobody knows, was a force that helped LGBT come out!"—Producer, Pat Addiss
"From the moment I first saw Romy as Alla Nazimova, I was enraptured. Seeing this empowered woman of the theater and silent screen brought to life and her incredible journey continues to inspire and educate people of all diverse backgrounds and genders." –Associate Producer, Laura Fay Lewis
Garden of Alla had sold-out runs at 59E59, HERE, PLAYERS CLUB, DiXON PLACE & THE KENNEDY CENTER, Romy Nordlinger's portrayal of Nazimova in Garden of Alla is inspired by Nazimova's own words: "By opening our eyes to the past, we are better able to see our present."
Photo Credit: David Wayne Fox and Britannica