If you are (or perhaps somebody you know is) anything like me, then you (or they, as the case may be) are an avid reader, always on the lookout for that next great read. Even as I sit here typing this paragraph, I can spot the ever-growing "To Be Read" pile by my bedside out of the corner of my eye. Fortunately, the Chicagoland area is home to some of the finest independent booksellers in the country. While I make no claim that this list is by any means exhaustive, these stores do represent some of my personal favorites (along with one newcomer to the Chicagoland area that I have not yet had the pleasure of visiting), to provide you with some gift-giving inspiration. So, without further ado, here is some information about those bookstores, in the words of the booksellers themselves, along with some of their recommendations. I wish you and yours a very happy holiday season and happy reading!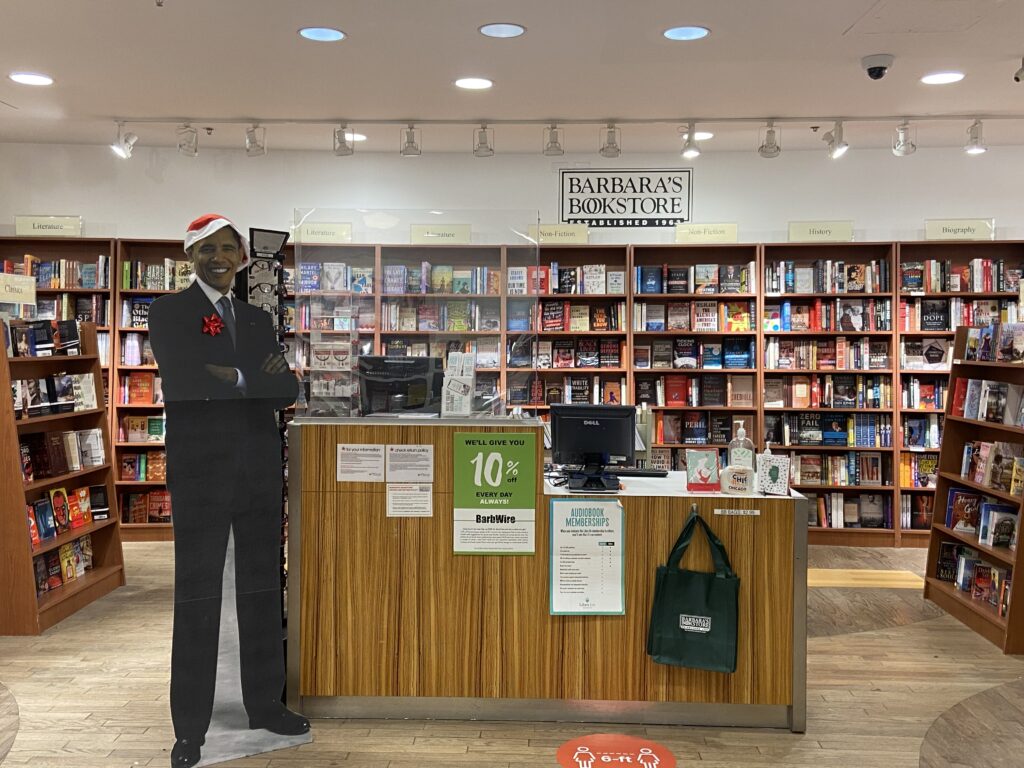 Barbara's Bookstore
Macy's State Street
111 N. State Street
Chicago, Illinois 60602
312-781-5257
www.barbarasbookstore.com

About Barbara's Bookstore:
Barbara's Bookstores — a multistore independent bookseller — has been a favorite of book lovers since it opened its first store in Old Town neighborhood of Chicago in 1963. In addition to a location inside Macy's on State Street in the Chicago Loop, it currently has locations at Northwestern Memorial Hospital in Chicago, and in Schaumburg, Burr Ridge, and Vernon Hills, as well as several locations inside O'Hare International Airport.

Barbara's is deeply committed to providing the public with quality books.
The booksellers at Barbara's Bookstore inside Macy's suggest the following books as possible gifts for the holidays:
In the Heights: Finding Home by Lin-Manuel Miranda, Quiara Alegria Hudes, and Jeremy McCarter. (This is the beautiful companion book to the hit film.) ISBN: 978-0-593-22959-0

In the Dream House by Carmen Maria Machado (For your literary fanatic or anyone who loves genre-bending literature.) ISBN: 9781644450383

neck/bone: visual verses by Avery R. Young (Local Chicago poet, and an amazing visionary performance-based poetry!) ISBN: 9780810140523

Stopping by Woods on a Snowy Evening by Robert Frost, illustrated by Susan Jeffers (A visually stunning edition.) ISBN: 9780525467342

The Real Santa by Nancy Redd (A very special message for this, and every, holiday season.) ISBN: 9780593178140
For information regarding events this holiday season, please visit the Barbara's Bookstore website.
The Book Cellar
4736-38 N. Lincoln Avenue
Chicago, Illinois 60625
773-293-2665
www.bookcellarinc.com
About The Book Cellar:
The Book Cellar opened in June 2004 in the Lincoln Square neighborhood. The Book Cellar combined two of my favorite things, books and wine! The store became a community space for book groups, story time, local author events, national author events, The Kates, Essay Fiesta, and graduate student readings and more. Our events have transitioned to virtual since the pandemic but we are confident that we will be back in action in our cafe in the future.

Upcoming Events:
For Small Business Saturday, we will have "Draw for Discounts." In December, we participate with Shop Late Lincoln Square on December 9 and 16, and on those dates, you can enter a raffle to win a full-sized Christmas Story Leg Lamp! We also have a great rep night, December 1st, photos with Santa on December 4th, and author events.

You can find a full listing of events coming up in December at The Book Cellar by clicking here.

Recommended Reads:

On Animals by Susan Orlean

You remember this author from The Library Book and The Orchid Thief. This particular title is perfect for the animal lover on your list. The book is a collection of stories about a person that keeps tigers, donkeys that have a clinic for rest and a whale that does not want to be set free. Her journalistic style of writing is a joy to read.

A History Lovers Guide to Chicago by Greg Borzo

Beautiful photos and interesting collection of all topics Chicago. Greg is a terrific historian.

The Every by Dave Eggers

The hardcover is a very special gift and unique because the customer can choose the cover image. The cover option is only available at independent book stores. Not only do you choose the gift book, but also the book package.

The Cheese Board Deck by Meg Quinn

This adorable boxed set of cards for ideas on what to include and how to arrange your boards can be given on its own or as an addition to a cheeseboard and utensils. Truthfully, any cookbook would make a brilliant gift.

The Perfectionist: How Precision Engineers Created the Modern World by Simon Winchester

This is one of my favorite non-fiction books. Each chapter begins with tolerance and as the tolerance becomes smaller and smaller the items described become more precise. The steam engine, watches, and Rolls Royce are some of the subjects described. You will be the hit of a cocktail party after reading this book.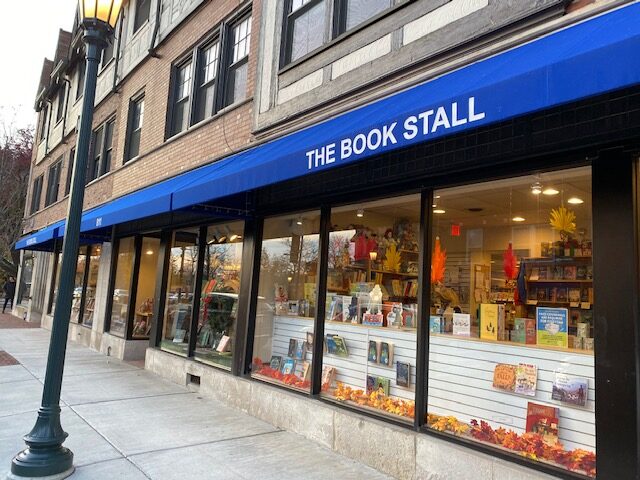 The Book Stall
811 Elm Street
Winnetka, Illinois 60093
847-446-8880
www.thebookstall.com

About The Book Stall:
The Book Stall in Winnetka, Illinois, has been a fixture on the North Shore for over 75 years. The store's large inventory includes a wide selection of fiction and nonfiction titles as well as an extensive collection of books for children and young adults. In addition to books, we feature a variety of specialty items including puzzles, games, stationary, calendars, socks, and more. Many of these unique items are sourced from Fair Trade suppliers and artisans all over the world.

Over the years, we have hosted famous authors like J.K. Rowling, Pat Conroy, and Amor Towles, as well as lesser known local and regional authors, helping to create a dialogue between writers and readers. The Book Stall also partners with clubs, organizations, and schools all around Chicagoland. The store's reputation for outstanding personal service, along with its involvement in the community has earned it national and regional recognition as a premier book store.

As the holiday season arrives, we believe that books make the perfect gift. A selection of books we recommend for holiday giving is available on our web site. On December 1st a listing of this year's staff favorites will also be available in our popular monthly newsletter which can be accessed on our website. Members of our 10% Discount Club receive that newsletter in the mail each month! Bargain hunters should take note of our Holiday Sale — on December 4th and 5th, all book and non-book items will be discounted 20%.

Stop in and visit our iconic bookstore. Booksellers are eager to help you select just the right book for anyone on your holiday list!

Recommended Reads:

Atlas of Interior Design by Dominic Bradbury

Explore interior-design masterpieces around the globe from the 1940s to today.

(Phaidon Press, $89.95)

The Jazz Standards: A Guide to the Repertoire by Ted Gioia

An essential, comprehensive guide to some of the most important jazz compositions.

(Oxford University Press, $39.95)

David Copperfield's History of Magic by David Copperfield, Richard Wiseman, David Britland, and Homer Liwag

An illustrated insight into the world of illusion from the world's greatest and most successful magician.

(Simon & Schuster, $35)

The Baseball 100 by Joe Posnanski

The Baseball 100 treats readers to the whole rich pageant of baseball history in a single volume.

(Avid Reader Press / Simon & Schuster, $40

For more information about The Book Stall and upcoming events, please visit their website.
Exile in Bookville
410 S. Michigan Avenue
Suite 210
Chicago, Illinois 60605
312-753-3154
www.exileinbookville.com

About Exile in Bookville:
Welcome to Exile in Bookville, a nod to Liz Phair's seminal album Exile in Guyville (cover image shot and album recorded in Chicago)! As the name implies, we think books and music belong in harmony and carry that over in our store. We purchased the space (previously The Dial Bookshop) this May, 2021 and have been quickly transitioning from a used to new bookstore. Exile is an independent general interest bookstore with a huge soft spot for small press and translated titles. We host an average of two events every week — both in-store and virtually — and archive all of our events on our website.

A little bit about our two-person store: Javier Ramirez, co-owner, has been a judge for the Kirkus Nonfiction Prize in 2017, National Book Award for Fiction in 2019, and the Andrew Carnegie Medals in Fiction and Nonfiction for 2021. He is currently judging for the inaugural United States Republic of Consciousness Prize. Kristin Enola Gilbert, co-owner, while new to the bookselling trade, is an author and teaches at Elmhurst University.

Recommended Reads:

Parakeet by Marie-Helene Bertino (signed copies)

Crossroads by Jonathan Franzen (limited number of signed editions available)

Rabbit Island by Elvira Navarro

Dead Are Rising: The Life of Malcolm X by Les Payne and Tamara Payne

It's Life as I see It: Black Cartoonists in Chicago, 1940 – 1980 (copies signed by two Chicago contributors to the anthology)

Upcoming Events:

Authors on Tap: Lily King with Rebecca Makkai: December 6th at 7:00 PM (more information can be found here)

Author Guest Booksellers, Scribes turned sellers, wordsmiths turned booksmiths:

Rebecca Makkai on Saturday, November 20th at 1:00 PM

Maryse Meijer on Saturday, November 27th at 1:00 PM

Joseph Scarpellato on Saturday, December 4th at 1:00 PM

Lindsay Hunter on Saturday, December 11th at 1:00 PM

Michael Zapata on Saturday, December 18th at 1:00 PM

See our ever-changing event schedule on our website.
Women & Children First
5233 N. Clark Street
Chicago, Illinois 60640
773-769-9299
www.womenandchildrenfirst.com

About Women & Children First:
Now one of the largest feminist bookstores in the country, Women & Children First originally opened in a modest storefront in 1979. The co-founders Ann Christophersen and Linda Bubon, met as graduate students at the University of Illinois at Chicago. Over the years we've been located in several locations on Chicago's northside. In 1990, we moved to our current location in the Andersonville neighborhood. In 2014, our co-founders sold the bookstore to two of their staffers, Lynn Mooney and Sarah Hollenbeck. The change in ownership kept the store "in the family" and renewed the strength and vitality of our mission. We strive to offer a place where everyone can find books reflecting their lives and interests in an atmosphere in which they are respected and valued. Over the years, we've hosted such luminaries as Gloria Steinem, Roxanne Gay, Maya Angelou, Gwendolyn Brooks, Louise Erdich, Ann Patchett, and both Hillary and Chelsea Clinton.

In 2019, we closed the store for a day to collaboratively write our bookstore's current mission statement:

Women & Children First believes in the transformative power of literature. As intersectional trans-inclusive feminists, we believe books are tools for liberation. Since 1979, we have celebrated and amplified underrepresented voices. In order for feminism to remain relevant, it must be forever evolving.

For the holiday season, we put together a couple of great lists including GORGEOUS GIFTS and CELEBRATE CHICAGO WOMEN.

On Small Business Saturday, the first 20 customers to spend $50 or more will get a special Margins Bookstore Day tote, celebrating diverse bookstores around the country.