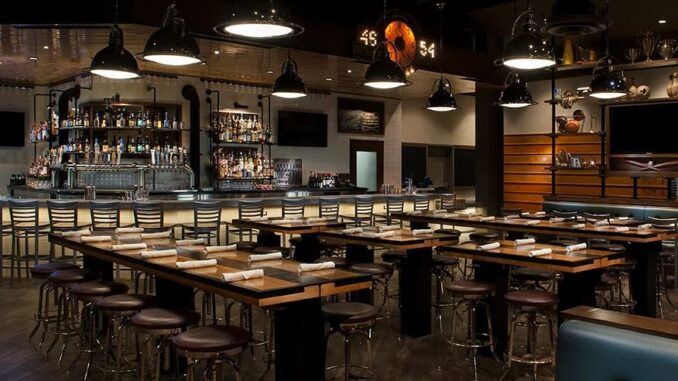 Making school fun can be a daunting task. Public School 702, located in Summerlin right outside of Las Vegas, has created a setting where they bring back childhood memories, literally surrounding you with them in a very fun and unique setting. There is more to Public School than the atmosphere, you will be able to grade them with an A with their creative food, cocktails and long list of beers that is always changing.
Public School isn't just a clever name; it is a restaurant that created a setting that makes your head spin as you look at the classic school setting that envelops the gigantic 14,000 square foot setting. In terms of a setting to hold a big party or event, it is hard to beat Public School as a venue for any size group. You are going to find flashcards hanging from the ceiling and items all over the restaurant that will take you back to grade school. Your curiosity might get you in the door, but the eclectic food and wide ranging beer lineup will keep you coming back. Located just a short walk from the Red Rock and right inside of the Downtown Summerlin Shopping Mall.
When you were in school you could only dream of the day some of the menu items at Public School would turn up on the cafeteria menu when you were a kid. There would have been a fight in the lunch line to get an order of bacon cheddar tots or truffle mac & cheese. The bacon cheddar tots might be the ultimate bar food as you are served oversized tater tots fried to a perfect crisp and stuffed with crisp bacon and oozing with cheese. If you want to feel like your mom is choosing making you eat vegetables, the crispy buffalo cauliflower will appease both you and your mom. The twist on healthy cauliflower has more buffalo wing than veggie flavor in each bite.
Public School has a number of great items that you are always going to find on the menu, but they love to bring in seasonal dishes and as fall turns into winter, pumpkin is introduced to the menu with some wonderful recipes. Who doesn't love chicken & waffles, it has become a wildly popular dish and there are plenty of variations to try. The combination of flavors that Public School brings into their Pumpkin Spiced Waffles with Maple Crispy Chicken really takes this dish to a whole new level. You get everything you like in the typical dish, but then the almost pumpkin pie flavor along with the addition of bacon really gives you everything you could possibly want all in one bite. They also do a little twist on pasta with the Pumpkin Bacon Campanelli, centered around the rich pumpkin cream sauce.
There are so many wonderful dishes to choose from, but the Ahi Tuna Poke Nachos are simply a must. The fresh Ginger-sesame ahi tuna poke is plentiful and is combined with avocado all over the wonton crisps that you could eat by themselves. Each bite is so full of flavors, you get heat from the togarashi and then a freshness from the combination of cucumber and pico de gallo, simply a well balanced and tasty dish. The menu at Public School has something for everyone, including an assortment of pizzas, salads and incredible burgers including their famous PB&J Burger. Regardless of if you get fries or tater tots, make sure sure to get a side of the beer cheese for dipping, you won't regret it.
One of the more fun and truly flavorful cocktails is the PB&J Old Fashioned. If you love an Old Fashioned, think about all you love about it and then make it a little fun. That is what Public School did, as it lives up to the name by combining, Screwball Whiskey, Bulleit Rye and Grape Jelly. When it comes to cocktails and beer, make sure you don't skip out on Recess, as during this time Monday through Friday from 3 to 6 p.m. you will get some great happy hour deals.
Leftovers for homework, games throughout the restaurant to play and plenty of televisions make Public School 702 the best educational setting of your life. If you are looking for a fun experience for any type of group, Public School is one restaurant that will not disappoint with a menu that is unique as the restaurant itself. School might not always have been fun, Public School certainly will never let you down and will leave you wanting to fight for a seat at the bar to take the tastiest quiz of your life.
For more information visit: Public School